KYC Collaboration
Columbus has a long history of being an LGBTQ friendly city. I mean, we host the largest Pride Parade in the Midwest.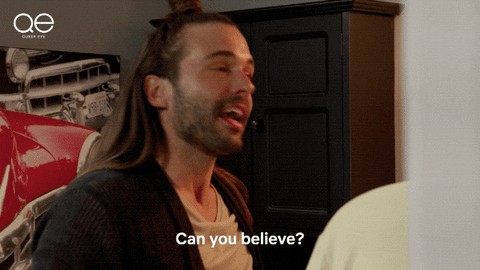 (Yes JVN, we can. Slay.) 
As we were brainstorming causes that we wanted to give back to, I knew that the LGBTQ community was at the top of my list. Personally, LGBTQ issues are near and dear to my heart. 
That's why I'm so excited to announce that until October of 2019, every t-shirt or tank that you buy from our Pride Collection, a dollar from that sale will be donated to Kaleidoscope Youth Center (KYC)!
Our Pride Collection has something for everyone, 
When someone's trying to tell you that being bisexual is "just a phase" you can just show them this tank. 
¯\_(ツ)_/¯
Lesbihonest, puns are the perfect way to come out. 
And of course a classic tee to show your Pride all day, every day. 
We have all of these shirts and so many more in our Collection. But before we go wild buying Pride gear, some background about KYC. 
Kaleidoscope Youth Center is a 501(c)3 non-profit based in Columbus, Ohio that first opened its doors in 1994. KYC works to create "safe and empowering spaces for [LGBTQ] and ally youth through advocacy, education, support and community engagement." 
They have different programming every night of the week to help educate and empower LGBTQ youth and to "provide them with the necessary tools to become leaders." 
In 2019, they'll be celebrating their 25th anniversary so definitely keep an eye out for all the fantastic events they have planned. (A few of us from the office went to their Masquerade Ball this year and let me tell you, they throw a GREAT party.) 
 KYC is a wonderful organization that offers incredibly important resources to the youth of Columbus. We were lucky enough to take a tour of KYC so check out the pictures below! 
As soon as you step foot into KYC, you can tell it's a safe space for individuals to be their authentic selves. It has several rooms, all used for various activities. Think, a room for art, a game room, a kitchen, even a performance space. Every room you walk in to evokes a feeling of love and homeyness. It warmed my heart.
All of the walls are a different bright color, the kids got to choose what color they wanted each room to be painted. Most of the color is hidden by original art work from the youth as well as inspirational posters like the one above.  
KYC is an essential organization that is doing such good work for Columbus and we are so thrilled to support and collaborate with them. 
To show your support for KYC, make sure to check out our Pride Collection! And when you do buy your Pride item, be sure to post a picture of yourself in it and tag us and KYC in it.
Which item from the Pride collection will you be rocking? Let me know in the comments below! 
---
Leave a comment
Comments will be approved before showing up.
---
Also in FEMFETTI BLOG
Just because you don't want to say something out loud, doesn't mean you can't say it at all!
In the process of re-discovering what our brand is, we honed in on three adjectives that all Femfetti girls can relate to!