Revivals That Are Giving Us Life
It seems like every time I open up Twitter, there's another news story about a show or movie getting a revival or a reboot. 
With streaming services like Netflix and Hulu gaining more popularity than cable, it seems that Hollywood is banking on millennials love of nostalgia to boost their ratings. Even movies and music aren't safe from the appeal of revivals.
While some of these revivals haven't been great, most of them have hashtag blessed us. 
Below I've rounded up ten reboots (eight are already out and two haven't been released yet) that are my favorites!
We'll start with the best of the best...
Queer Eye! YES HEEENNNYYYY! This is the reboot to end all reboots. It took the world by storm and introduced us to the Fab Five and the French Tuck (thank you Tan!). We owe these icons so much for bringing light, love and better skincare routines into our homes. 
Aly and Aj! The sister act best known for the Iconic Bop "Potential Breakup Song" have graced us mere mortals with the dreamy 80's synth pop we deserve in these trying times. 
The Magic School Bus! Everyone's favorite style icon and science teacher is back and voiced by Kate McKinnon and that's all it took for me to be hooked. 
Early 2000's Pop Punk Bands! Fall Out Boy, Panic! At The Disco, all the bands my angsty teen self adored have released new music but with an updated sound that stays true to their roots. Now if only My Chemical Romance would come back...*A lone G note plays softly in the distance*
Twin Peaks/The X-Files! Twin Peaks was actually the catalyst for me fully believing in aliens. Mulder would be proud. 
ABBA! THEY'RE REUNITING TO COME OUT WITH NEW MUSIC AND ALL OF A SUDDEN THINGS DON'T SEEM TOO BAD.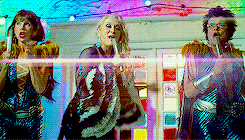 Riverdale! I grew up reading Betty and Veronica comics so when I heard they were getting the CW makeover I was immediately hooked. Riverdale has all of the OG characters but with all of the CW tropes that you know and love. These include tropes such as; everyone is hot, everyone is hooking up, high schoolers are dressed in WAY nicer clothes than is realistic and there's far too much murder and criminal activity for the town to not be crawling with law enforcement. 
Will and Grace! The dream team is back with a whole new slew of pop culture zingers and drinks but Karen's iconic laugh is still the same. 
Chilling Adventures of Sabrina! This hasn't come out yet but when it does, no one will hear from me until I have watched the entire season in one sitting. I just hope Salem is as relatable as he was in the original. 
The Hills! The Hills are alive with the sound of everyone wondering if anyone will care about this reboot without Lauren Conrad and Kristin Cavallari there. 
Any other reboots that you're loving? Let me know in the comments!
---
Leave a comment
Comments will be approved before showing up.
---
Also in FEMFETTI BLOG
Summer 2019 is almost here! We've put together a checklist full of everything you'll need to have fun in the sun.
Galentine's Day is tomorrow, and you know what that means: time to round up your BFF squad and celebrate the badass women you are.