Seven Ways to Style This Denim Jacket
It's currently 91 degrees outside but I've already unpacked all my sweaters and jackets, just so I can gaze at them longingly and whisper "soon"as I imagine the day when I can finally not sweat as soon as I step outside. 
Other than realizing I should get out more, I found out that I don't own a single jean jacket. NONE. Without this staple in my life how am I supposed to blossom into the Instagram Fashion Influencer I know I can be?
To help me achieve this goal I immediately went to Femfetti's oversized jean jacket. 
Femfetti
After lots of contemplation, I was able to come up with seven different ways I would wear the hell out of this jacket.
Check them out below! 
1. It's almost that time of year when it's freezing cold in the morning but by noon, it'll hotter than should be reasonable. To combat the weather changes, I would pair the jacket with fabric shorts, my fav graphic tee (french tucked NATCH) and some converse. The jacket would be the perfect layering piece so I can stay warm in the morning but also not get heat stroke later. 
2. Wear it as a shirt! I'd button the jacket up and style it like I would any oversized button up. I'd go with leggings and fun booties so I could feel like I was truly living my best fall life. 
3. Top off your favorite summer dress with it! This is a great way to get a few more wears out of warm weather dresses before we have to pair them with fleece lined tights.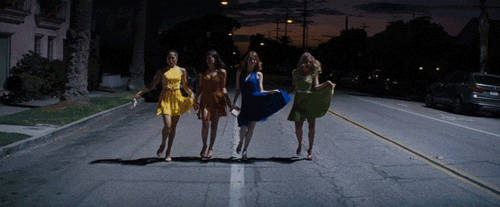 4. Make it an all denim party. Add your favorite jeans (in a different wash or, to lean into the Canadian tuxedo aesthetic, the same wash) and a chambray shirt! Or if that's too much denim for one person to handle, swap out the chambray shirt for a flannel shirt! 
5. For a true LEWK, layer a hoodie underneath, pair it with joggers and your favorite tennis shoes. Add oversized sunnies and a messy bun and all of a sudden you look chic as hell but also comfy as hell which is the dream combo. 
6. Since this jacket is more roomy (which allows me to eat more tacos) I would pair a form fitting dress underneath so I wouldn't feel like I was drowning in denim. 
7. I saved my personal favorite Look for last. I would add black skinny jeans (rips optional but highly encouraged), combat boots and either a Fall Out Boy shirt or a My Chemical Romance shirt. You never outgrow your emo music phase.  
Are there any other great outfits we could make with this jacket? Hit up the comments with how you'd style this jacket!
---
Leave a comment
Comments will be approved before showing up.
---
Also in FEMFETTI BLOG
Just because you don't want to say something out loud, doesn't mean you can't say it at all!
In the process of re-discovering what our brand is, we honed in on three adjectives that all Femfetti girls can relate to!